Invisalign

Chesapeake
Perfect Smile, Better Life!
Dr. Shabana Zahir is Certified Invisalign Provider
Let Invisalign® Help Perfect Your Smile. It is a brand of clear braces that has become very popular in recent years. These invisible braces are a breakthrough because they allow both adults and teens to correct common orthodontic issues like crooked teeth or gapped teeth.
Invisalign is preferred by many patients here in Chesapeake, compared to traditional metal braces, for the following reasons:
Less discomfort
Better appearance (virtually invisible)
Less hassle
More cost-effective
Invisalign is a great solution for many issues with teeth alignment, including:
Crooked teeth
Crowded teeth
Spaces between teeth
Overbite & overjet
Midline misalignment
Many other orthodontic issues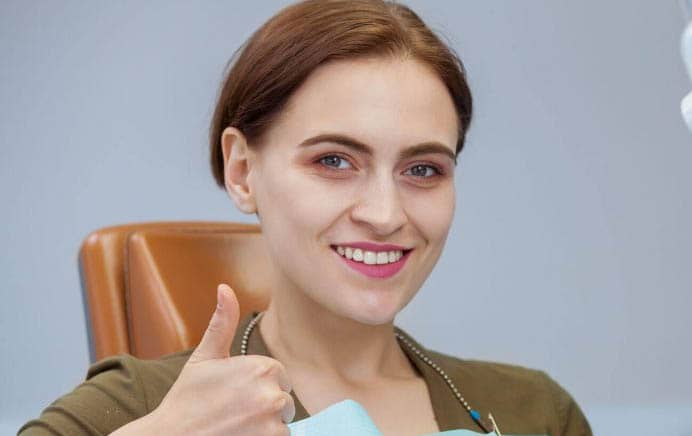 How much does Invisalign cost?
Invisalign is the invisible way to straighten your teeth without braces. When discussing Invisalign, usually the first question asked is, "How much will it cost?" You may think Invisalign is too expensive, but in reality, Invisalign is comparable to the cost of traditional metal braces.
Depending on your individual needs, only your doctor can determine the cost of Invisalign. Other factors may include your treatment goals, the difficulty of your case, how long you are in treatment, your orthodontic insurance coverage.
Affordable payment options that fit your individual budget are also available. Your dental insurance may include orthodontic benefits, which can reduce or possibly eliminate your out-of-pocket costs. Even if your insurance doesn't cover orthodontics, you may be able to finance your Invisalign treatment. Ideal Smiles Family & Cosmetic Dentistry will work with you to determine what financial options will work best for your situation.
So, why wait? Get started with your treatment. You will be on your way to straighter teeth and a beautiful smile within weeks of visiting our office. Please call our office today for a complimentary consultation at 757-548-0000. You can also request an Appointment online by clicking on the link: Request Appointment Button.
What people saying about us
Dr. Zahir is the absolute BEST! As picky as I am with a dentist, I have finally found one that I completely trust! The major work she has done for me is a few crowns and they look fantastic. The color match is perfect, and she is sooooo gentle…. She asks the entire time if you're doing ok. I highly recommend Dr. Zahir. My husband and I both drive from Elizabeth City North Carolina to her in Chesapeake….she is well worth the hour drive ❤️

Tammy McGough

I went in for an extraction, they were pretty quick and I was out the door before I could even blink! The front desk lady's were super sweet and friendly! Doctor Zahir was amazing also definitely helped me feel comfortable. 10/10 I'll definitely recommend.

Ayana Morris

Dr. Zahir, is amazing! She is so informative, caring, and gentle when it comes to working on your teeth. You can tell she takes great pride in what she does and that she cares for the health of her patients mouths. Her staff is wonderful as well. Everyone is super nice! From the ladies at the front desk, to those who help Dr. Zahir clean your teeth, and do your x-rays. You can just tell that you're in great hands. Not only do I love this office but my 6 year old is comfortable with them as well. I would give them 10 stars if I could. I definitely recommend Cedar Road Dental!

Ariel Rupe

Dr. Zahir is amazing. So kind and very concerned with comfort and health. Took the time to put my daughter at ease. Her office staff are friendly and very knowledgeable. The overall experience at this office was perfect.

Rachel Augustine

This is the best dental office I have EVER gone to!!! Dr. Zahir is amazing!!! And the staff is even better!! I was very nervous and afraid after a very bad experience but I have found my life long dentist I can't say enough about how great the office and my procedures have gone thank you so much!!! If you are searching look no further they are the best!!!

Melthres Johnson

I had the best experience ever in a dental office. All staff is friendly and very helpful.

William Evans

Dr. Zahir and her staff are wonderful! Amber was extremely hospitable when scheduling my appointment, Debbie did my cleaning and surprisingly I fell asleep lol I wish I remembered the dental professional who took my xrays because she was amazing too! I've been a long time patient of Dr. Zahir and I love love love this new location so much! I will be referring all my family and friends! Thank you everyone for such a beautiful visit!

Mechelle Smith

Cedar Road Dental Dr. Zahir and her staff are AMAZING!!!!! They are so welcoming and considerate. They take the time to be extremely informative and make sure that in every process you are aware and comfortable. Dr. Zahir is now my forever dentist. I truly appreciate you and your incredible staff and thank you for your wonderful and expert care.

Nicole Bell